The Meade 4-speed Zero Image-Shift Microfocuser for precise focusing in sensitive lunar, planetary, or deep-space observing and simultaneously to maintain precise image centration in CCD imaging applications.

Modern control-panel design, with connectors for a wide range of optional accessories and features, including CCD autoguider, illuminated reticle eyepiece, field de-rotater, and optical tube thermal stabilization fan, as well as an RS-232 serial port connector.

Supergiant Field Tripod and Permanent Piers: The 16" LX200GPS is offered with a choice of tripod or piers, each suitable to specific user applications:

Supergiant Field Tripod: Supplied with the Supergiant Field Tripod, the 16" LX200GPS is remarkably field-transportable for an instrument of its aperture and specifications. The telescope is manufactured in four basic modules (optical tube assembly with Declination housings attached; fork arm system; drive base; and field tripod) and, as such, is readily transported and set-up in the field by two adults in about 10 minutes. The extremely strong and rigid tripod assembly, incorporating 4"-diameter steel tripod legs, results in virtually no compromise whatever in telescope stability, as compared to the permanent pier systems described below.

Placed atop the Supergiant Field Tripod, the 16" LX200GPS operates in the altazimuth mode with the tracking and pointing accuracies previously described. For visual observing, or for CCD imaging or astrophotography not exceeding four to five minutes' duration, no additional equipment is required. During longer periods of imaging or photography, however, field rotation, an effect inherent to any altazimuth-mounted telescope, becomes apparent. The result of such field rotation during photography or imaging is to cause stars at the outer edge of the field to appear to rotate relative to the centrally-located star, even if the exposure is perfectly guided. This effect can be cancelled completely and precisely by adding the optional Meade #1222 Field De-rotater (below).

Permanent Altazimuth Pier: For observatory applications the 16" LX200GPS may be ordered with the Permanent Altazimuth Pier, a mounting system that results in comfortable, readily-accessible eyepiece positions at all telescope pointing locations and is ideal in those environments where the instrument must be housed in a minimum of space.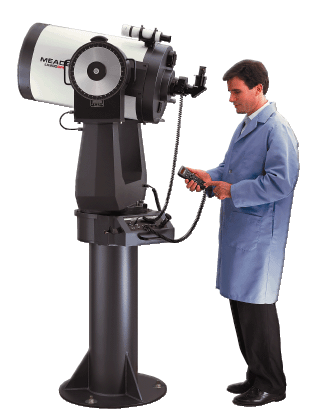 Home Pulse Acquisition: Included as standard equipment with all 16" LX200GPS models, and unique among commercial telescopes, is a special "home pulse" feature that allows the telescope's operating system to maintain the telescope's pointing position in non-volatile memory, even when the telescope is turned off. The advantage of such a system is that the telescope may be remotely aligned and operated over an arbitrarily long distance, through a modem link to the telescope's RS-232 serial interface. In this way Meade 16" LX200GPS telescopes may be operated through a pre-programmed sequence of, for example, CCD imaging, without a human operator being present in the observatory.ry.