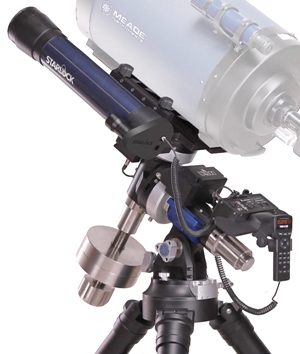 Meade LX800 GEM mount with StarLock & full-time automatic guiding system 全時自動導星
Professional instrumentation for the demanding school, college, university research program and discriminating amateur

Over 40 years of experience, Meade, continue to raise the bar with their new LX800TM with StarLockTM German Equatorial Mount. Capable of carrying up to a 41kg (90lb) payload, with full-time automatic guiding and LightSwitch enabled high-precision pointing, the LX800 is the latest in a long line of advanced astronomical products.

The machined stainless steel and aircraft grade 6061-T6 aluminium construction means that the LX800 is a rock-solid platform. With precision roller bearings on both axes; a 1.75" stainless steel R.A. shaft; 0.68" diameter brass worms and 5.8" diameter, 225-tooth aluminium gears, the LX800 delivers smooth and precise movement. As you would expect, the LX800 is a fully computerised GoTo mount with GPS and comes with a database of over 144,000 objects. All this sets atop a new super-stable tripod.

The StarLock module includes two cameras. One camera has a super wide-field optic with LightSwitch style pointing and high-precision mode, capable of landing an object within 1 arc-minute. The other camera, with an 80mm F/5 optic is capable of guiding down to 1 arc-second and is sensitive enough to lock onto 11th magnitude stars automatically! Once the scope lands on a target, it begins to guide itself and all you really need to do is polar align, add a camera, focus, and open the shutter. StarLock even automatically programs periodic error correction also reducing any other errors down to virtually zero. Oh, and they've also included an electronic drift-align assist, which provides a simple routine for accurate polar alignment using the StarLock? guider to measure the drift. There's no longer any need for a separate guider or computer and the StarLock requires no user focusing or guide star selection.