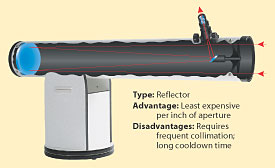 Reflector telescope
All astronomical telescopes, large or small, share a common goal ¡X to brighten and magnify your views of celestial bodies. Refractors, reflectors, and compound (catadioptric) telescopes do their jobs in different ways ¡X each with its own benefits and drawbacks.

Yet many fundamentals apply to any telescope. Of primary importance is a telescope's aperture: the diameter of its light-gathering lens or mirror. (That lens or mirror is often referred to as a telescope's objective.)Aperture makes a big difference in the level of detail you can see. A telescope that can only be pushed as high as 50x (50 times magnification) will reveal Jupiter's moons, Saturn's rings, and some degree of detail in the brightest star clusters, nebulae, and galaxies.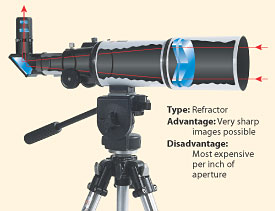 Refractor telescope
But to discern Martian surface features or to see both members of a tight double star, you really would like to be able to use at least 150x. Depending on optical quality and observing conditions, you can expect to get anywhere from 20x (mediocre) to 50x (excellent) per inch of telescope aperture.
Aperture also enables you to see fainter objects. For example, several dozen galaxies beyond our own Milky Way can be discerned through my 4½-inch (105-mm) reflector. Some are more than 50 million light-years away. Not bad for a telescope I can tuck under my arm and carry on a plane! But with my 12½-inch Dobsonian, hundreds of galaxies are within reach.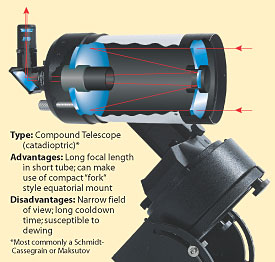 Catadioptric telescope
If a telescope's aperture is arguably its most important "spec," its focal length comes in as a close second. Say you have two telescopes with the same aperture but different focal lengths. The one with the longer focus (and hence, a higher f/ratio) will generally lend itself better to high-magnification viewing. (The f/ratio is the focal length divided by the telescope aperture in the same units.) One reason: you can stick with longer-focus eyepieces, which are easier to use, especially for eyeglass wearers. Another reason: "fast" objectives (those with small f/ratios) tend to make fuzzier images, unless you've paid a premium for high-quality optics.