Nikon Binoculars 藝 康 雙 筒 鏡
---
Nikon Prostaff 7 雙 筒 鏡 : 防水,充氮,相位鍍膜,660克 。 適合觀星,賞鳥及航海之用


Nikon Prostaff 7 - Highest price quality ratio

Original HK$1450 | Special HK$1280


Fully Multicoated Lenses

High quality coating on all lenses.
Aluminum High-reflective Multilayer Prism Coating

With phase correction coating on roof prism for excellent brightness and resolution.
Multi-Click Turn-and-Slide eyecups

For a clear and comfortable view, with or without eyeglasses.
Durable and Protective, Rubber-Armored Coating

Provide a non-slip grip, wet or dry.
Tripod Adaptable

Waterproof/Fogproof

Nitrogen filled and O-ring sealed.
Nikon EDG 雙 筒 鏡 : 防水,充氮,相位鍍膜,超輕人性化設計,日本製造* 。 適合觀星,賞鳥及航海之用


Nikon 8x42 EDG Binocular 7.7° field of view

F

日本製 Made in Japan
Our price


8x42EDG $13800

On-line price

$17115 you save 24.0%

10x42EDG $14500

on line price

$17898 you save 26.0%

堪稱世上最優良的雙筒望遠鏡(Made in Japan)
The world's greatest adventurers have trusted Nikon's legendary ED (Extra-low dispersion) glass in NIKKOR lenses to capture some of the most breathtaking imagery ever attempted. Nikon engineers have harnessed the superiority of this same highly acclaimed Nikon Extra-Low Dispersion glass to push the limits of optical perfection in this all new flagship binocular:
The EDG. Superior cutting-edge optical performance is paired with a new body style for faster handling and incredible ruggedness. With Nikon's ED glass lenses and advanced optical systems delivering extremely bright, high resolution images— the 2011 models represent the pinnacle of Nikon technology.
Nikon's exclusive and legendary ED (Extra-low Dispersion) glass lenses
Deliver superior sharpness and color correction for unmatched detail resolution.

Full review (allbinos.com) of 10x42 EDG binoculars 唯一在此評測取得超過90分的 10x42屋脊稜鏡

All series of Nikon binoculars

Dielectric High-Reflective Multilayer Prism Coating
This technique provides almost the same brightness as that perceived by the naked eye, and clear, high-contrast images that display accurate color reproduction.
Advanced, fully multicoated optics
Multiple layers of anti-reflective compounds on every glass surface for bright, vivid sight pictures.
New body style
New ergonomic construction balances perfectly in the hand for extended hunts.
Dual focus knob with locking diopter adjustments
A quick, central focusing knob has been paired with pop-up diopter adjustments for unparalleled speed and convenience.

Field Flattener Lens System applys to make the entire field very flat, almost no astigmatism.
This expert lens design minimizes field curvature, producing images that are as sharp in the peripheral areas as they are in the center.


Horn-shaped detachable eyecups

Ergonomically contoured eyecups block out peripheral light for a clear field of view.
19.3mm long eye relief with ratcheting eyecup adjustments
Allow for a perfect view, with or with or eyewear.


Lightweight, rubber-armored body
Delivers superior ruggedness that is still easy to hold in any weather.

Magnesium-alloy body
New body cuts weight without sacrificing durability.

Waterproof/fogproof optical performance
O-ring sealed and dry nitrogen filled to handle the toughest conditions on the planet. (Up to 10 minutes submersed at 5 metres).
尼康最先進的望遠鏡,EDG 8x42 備有傳統光學技術,為那些喜歡觀察大自然的用戶,包括由野生動物以至星體,都可以提供需要的功能及可靠性。
長期採用於尼克爾鏡頭的超低色散(ED)鏡片技術,可以盡量減少色差。我們的拼合鏡頭系統,盡量減少視野的曲率,以及我們的電介質高反射多層鍍膜,能夠提高棱鏡超過 99%(設計值)的光反射率。


這些技術可以讓用戶看到自然的物件,以及它真正原有的顏色和對比度,並確保在清晰觀看整個視野。
Super Large eye lens 24mm, the largest in the market

The Cutting EDGE in Optics

ED Extra-Low Dispersion Glass Lenses
超低色散物鏡
Dielectric High-Reflective Multilayer Prism Coating
電介膜高反射多層鑊膜稜鏡
Advanced, Fully Multi-Coated Optics

Field Flattener Lens System
像場修正鏡組

Dual Focus knob with locking diopter adjustments

Horn-shaped detachable eyecups

Magnesium-alloy body
鎂合金鏡身
Waterproof and Fogproof




尼康8x42EDG產品榮獲 "red dot award: product design 2011"大獎

price in Japan ¥220,000

Stock available 有 現 貨
8x42 |10x42 EDG

call 96383899 or email gesc@netvigator.com for details


Review of Nikon EDG binoculars: EDG雙筒鏡評測

Best binoculars reviews

Optics4birding

You tube Nikon EDG binoculars Nikon Pro Review

Review centre

| | |
| --- | --- |
| Ergonomic design, well balanced | Hornshaped eyecup prevent light from outside |
| | Silky smooth focusing mechanism |
| | |
Durable mechansm, rugged design


Extra large eye lens 24mm

* Very wide field of view at 7.7 degrees

Stock available 有 現 貨

call 96383899 or email
gesc@netvigator.com for best price
| | |
| --- | --- |
| Nikon 10x42 EDG transmission across visible spectrum | Swarovski EL10x42 transmission across visible spectrum |
Nikon 8 x 40 Action Ultra Wide View Binocular 8.2° field of view
nsor
* Aspherical lenses eliminate virtually all distortion
* Quick, smooth central focusing
* Tripod adaptable
* Diopter control to regulate vision imbalance
* BaK4 high index prisms
* Precision aligned sharp multicoated optics for bright, clear images
* Standard-size armored body
* Lightweight 690gm

f
Nikon Monarch 8x42 binoculars
(the best buy at this price level)



適合登山露營、戶外狩獵、航海釣魚
Birding is considered the most demanding use for binoculars, so we found the best comparison tests of the Monarch ATB 8x42 binoculars at the Cornell Lab of Ornithology, where teams of experienced birders compare it with 77 other models in various sizes and price ranges, using well-documented tests and precise ratings. Pete Dunne's review in Birder's World compares the Monarch ATB 8x42 with seven comparably priced binoculars, and the scorecard at Optics4Birding.com rates this model on eight different factors. We also found more than 40 owner-written reviews at Amazon.com and HuntingAndFishingGearReview.com.
Reviewers say the full-sized Nikon Monarch ATB 8x42 binoculars are the best binoculars in this price range - the "sweet spot" where you get the most for your money. Recommended for birding, hunting and butterfly watching, the Monarch ATB 8x42 binoculars can focus as close as 8.2 feet and provide a 300-foot field of view. With 19.6mm of eye relief, they're also comfortable for eyeglass wearers. They're roof-prism binoculars (the best type) and are both fogproof and waterproof.
More reviews of Monarch 8x42 |The Age of Binoculars, Kenneth V. Rosenberg, Winter 2005
Nikon Monarch ATB 8x42 Waterproof Binocular by Amazon.com | Binoculars Reviews, Contributors to Hunting and Fishing Gear Review
| | | |
| --- | --- | --- |
| | | |
| | |
| --- | --- |
| 使用鎂鋁太空金屬,8x32HG L DCF 重量只有695gm. 日本製造* | |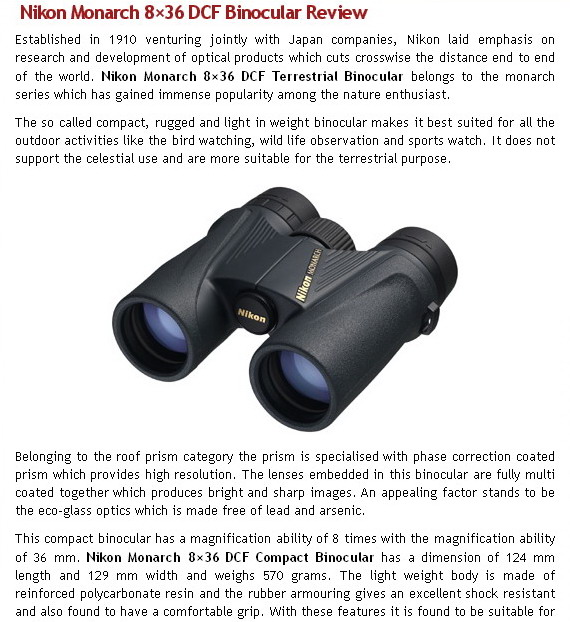 Nikon Monarch 8.5x56 Binocular

Nikon Monarch 8.5x56 binoculars, best for deep sky observation

•All lenses and prisms are multilayer-coated for the brightest images
•Phase-correction-coated roof prisms for high resolution
•High-reflection mirror-coating prism for bright image
•High-eyepoint design provides a clear field of view, even for eyeglass wearers
•Eco-glass optics that are free of lead and arsenic are used for all lenses and prisms
•Waterproof (up to 1m/3.3 ft. for 5 minutes) and fog-free with nitrogen gas
•Turn-and-slide rubber eyecups facilitate easy positioning of eyes at the correct eyepoint
•Rubber armouring for shock resistance and a firm, comfortable grip
•Lightweight body uses fibreglass-reinforced polycarbonate resin
•Soft-to-the-touch neck strap
•Can be fixed to a tripod using optional tripod adaptor