Manufacturer's Specifications of Equatorial Head
Worm wheel
4" (10.2cm), 192 teeth, fine-pitched bronze wheel

Worm gear
Brass

RA/Dec shaft
2.5" hollow shafts

Counterweight shaft
13.75" useable length, 1.125" diameter stainless steel,?removable

Latitude range
15 to 57 degrees

Azimuth adjustment
Approximately 17 degrees

Setting circles
Porter Slip Ring design, engraved

Right ascension
10 minute increments, 2-minute vernier

Declination
1 degree increments, pointer

Motors
Zero-cogging servo motors

Power consumption
0.3 amps at sidereal rate, 1.2 amps with both motors slewing

Power requirements
12VDC, acceptable range 11.5 to 15

Capacity
Approximately 25 lbs (11.4kg) scope and accessories, depending on length. Will accommodate many refractors up to 6"f7", reflectors to 8", Cassegrains to 10"
Some telescopes are very heavy for their size and will require a larger mount.

Weight of equatorial head
29.5 lbs. (13.4 kg) for the head and 4 lbs (1.8 kg) for the counterweight shaft

Servo Motor Drive
The drive system uses a high-quality, zero-cogging DC servo motor controlled by a microprocessor to an accuracy of 0.2 arc seconds per step. Tracking is very smooth, noticeably smoother than any stepper motor drive. The system can be accurately controlled over a speed range of 4800:1 (0.25x sidereal for guiding to 1200x sidereal for 5 degree per second slewing). The circuit draws only 0.3 amps when tracking the stars, 1.2 amps with both motors slewing and requires 12 volts to operate. The servo drive will satisfy the requirements of the sophisticated, advanced astrophotographer, yet is easy for the casual, visual observer to use.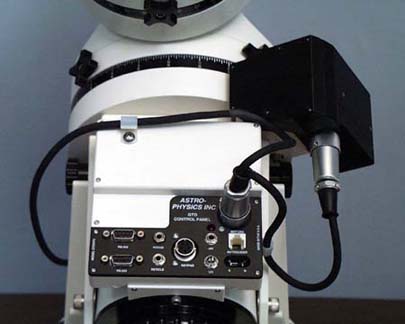 Dimensions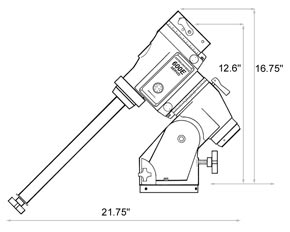 Features
Machined aluminum housing provides robust protection for electronics.
Dovetail construction allows quick removal from 900 and 1200 mounts.
Removable?microprocessor chip allows upgrades in future.
12V connector for locking power cable.
Connector for SBIG ST-4, ST-6, ST-7, ST-8 and ST-10 Star Tracker/Imaging Systems or any CCD with modular RJ-11-6 connector.
Two 9-pin RS-232 serial ports (DB9 female connectors) so that user can use DigitalSky Voice and a planetarium program (i.e. Software Bisque's TheSky? software) simultaneously, if desired. The user must have two COM ports available on their personal computer to use the software together.
Focus connector - for 3.5mm phono plug (JMI or Meade electric focusing motors).
Reticle connector - for guiding eyepiece with an illuminated reticle that has a 3.5mm phono plug or the cable for our own PASILL3 or PASILL4 (Polar Alignment Scope).
6 volt output accepts 3.5mm phono plugs to power Pentax 6x7 camera directly from the mount.
Northern and Southern Hemisphere switch.
GTO Keypad Controller locking connector.

The GTO control box contains all of the circuitry to drive the two servo motors and the logic required to circumnavigate the sky. This electronics box is mounted directly on the polar axis of the 1200 and 900 mounts and is a stand-alone unit for the 400 and 600E mount. We provide a pouch with a handle for the freestanding unit.

The main function of the servo controller is to drive the RA and DEC motors, which are DC servos with built-in shaft encoders. The rotation rate of the motors is controlled with a servo feedback loop. The servo looks at the return pulses from the shaft encoders and adjusts the current to the motor so that the rate is identical to the commanded rate (i.e. from .25x sidereal to 1200x sidereal). The servo is digitally controlled, and the shaft position is updated at a rate of 2000 times per second.