儀器概覧
品牌分類 by BRANDS
儀器分類 by CATEGORY
致全港各學校:
To all schools in Hong Kong:

凡購買天文儀器滿港幣8000 元或Meade 套裝 天文望遠鏡,可免費獲得一次由天文匯派員到貴校提供儀器使用課程。

詳情可電郵 本公司 或致電 96383899查詢

All purchases exceed HKD8000 amount, your school will be granted a free seminar on telescope operation, care and maintenance.

For details, please contact our company or phone 96383899
快速搜尋 Quick Search
Carl Zeiss Telescopes 蔡司望遠鏡

蔡司雙筒望遠鏡 ,防水,充氮,相位鍍膜,德國製造,
原廠保用,適合觀星,探險及賞鳥之用,絕對是地球上最好的雙筒望遠鏡!
蔡司 = 唯一進入太空的雙 筒 望遠鏡 | Zeiss = The only binoculars used in Space
蔡司雙筒望遠鏡外殼由鎂鋁合金 magnesium alloy構成,再添加了60%玻璃纖維high performance polyamide, consists 60% glass fibre的增強型高性能尼龍材料所組成。其外殼非常結實,並且防撞擊及防水防塵,更填充了氮氣,因此適合在苛刻的條件下使用。

蔡司雙筒望遠鏡是最完美光學的代表,憑著其優質及卓越的表現,配含人體工學設計,深受各類專業人員,探險家及科學工作者信賴,如Simon King (製片人), Hans Kammerlander (爬山家), Andreas Kieling (製片人), Jurgen Sedlmay (旅行攝影家) 和 Sven Achtermann (攝影師) 等。

至今,蔡司雙筒望遠鏡的最後組裝,還是由專業人員中手工裝配,並使用精準儀器較正.


*** 超 高 透 光 度 的 秘 密 *** 全球獨家專利阿貝式(Abbe-Konig)屋脊稜鏡
這是一種獨特的結構,長度要比常見的屋脊稜鏡稍微長一些 ,優點是所有的光線都可以應用全反射原理, 不需要鍍反射膜,沒有反射損失,這也意味著比一般屋脊棱鏡稍微長一些, 配合蔡司在80年代率先研發出的稜鏡相位修正鍍膜技術, 提高成像亮度與對比度,視野明亮清, 令蔡司成為全球第一家 將直筒式屋脊稜鏡系統透 光度做到跟頂級普羅式 (PORRO)稜鏡機種達到相同透光率(>90%)的品牌。
Wikipedia 對阿貝式(Abbe-Konig) 屋脊稜 鏡 的註譯

All Zeiss binoculars comes with an unique identity number which prints on the tags underneath the focusing knob, it indicate the production date, country of origin. Please quote this number in case of warranty
10 years warranty by Zeiss, Germany

本公司為蔡司香港直銷店,保證原裝行貨,品質有保障,並提供完善售後服務及技術支援
保固期:原廠提供售後十年保固;7天非人為損壞掟貨保障
保固範圍:包含本產品光學鏡片及機械結構,保固期內正常使用故障免費維修。
巨眼天文儀器社為蔡司品牌的中國及香港經銷商,
請電郵 gesc@netvigator.com 或致電 852-9638-3899查詢
Victory HT Binoculars - 8x54, 8x42 and 10x42 The brightest premium binoculars in the world

存貨: 請查詢 Stock availabllity: Please Ask
Victory HT Binoculars - 8x54 , 8x42 and 10x42
A revolution with up to more than 95% light transmission.
Unrivalled brightness, thanks to a light transmission of up to 95% and more - the result of the innovative optical concept of the VICTORY HTs. The perfect interplay of SCHOTT® HT glass, the Carl Zeiss T* multi-layer coating, and the Abbe-König prism system allows observation of those creatures that are active in the twilight hours: nighthawks, bats, screech owls, deer and other shy animals both early and late. This innovative, high-performance package will enable you to enjoy the true majesty of nature, even in poor light conditions.
VICTORY HT 8x54
Thanks to the revolutionary optics concept, ZEISS has managed to fit the performance of a 56x lens into a significantly lighter and more compact lens design. The result: impressively bright images until late into the evening, unprecedented ergonomics and the large eye relief. This means you are extremely well equipped for bird watching in bright moonlight.
VICTORY HT 8x42
More freedom of movement whatever the weather – that is the beauty of the VICTORY HT 8x42. Thanks to the 5.3 mm exit pupil diameter, a particularly wide field of view and 8x magnification, these binoculars are outstandingly well suited for a wide range of different uses. The vastly superior transmission levels deliver extremely bright images even in the worst light conditions. This means that you can go on watching for longer, until deep into the twilight. Weighing just 785 g and with their robust, Double-Link-Bridge design, these binoculars are a lightweight and extremely reliable companion – with the highest mechanical focussing precision.
VICTORY HT 10x42
Even at the longest distances, the VICTORY HT 10x42 shows its strengths: maximum brightness and the finest details through to the deepest twilight. Simply forget what time it is and enjoy watching the display of owls on a clear winter's night. The 10x magnification gives you a detailed insight into this superb performance. Naturally, the VICTORY HT 10x42 binoculars also benefit from the Comfort Focus concept, which means they can be used effortlessly and accurately, even with gloves on. The ergonomics of the housing are hugely impressive, while at the same time the double-link bridge design sets new standards of robustness. This all serves to ensure the very highest levels of precision and durability.
Conquest HD - 8x42 and 10x42 The modern observation optics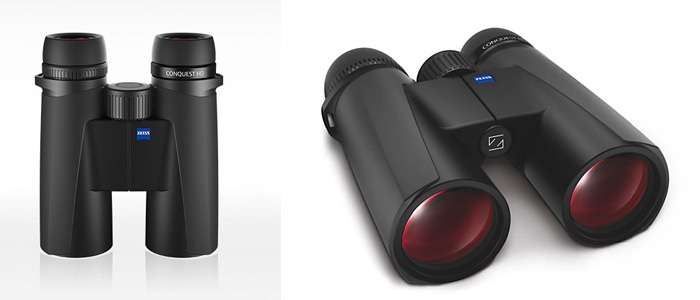 存貨: 請查詢 Stock availabllity: Please Ask
Conquest HD - 8x42 and 10x42 The modern observation optics
A whole new class of premium optics provides a premium experience of the world of nature. Watching birds, insects, or wildlife you will appreciate the vivid natural colors and the comfortable feel in your hands and in front of your eyes. The innovative HD lens system, the compact and light weight design, will allow you to enjoy the view from before dawn to deep dusk, every day. With the new CONQUEST HDs you will be equipped for a premium experience of birds and the whole world of nature.
CONQUEST HD 8x42
The CONQUEST HD 8x42 has been designed as a robust companion for use during twilight. Its 8x magnification ensures that the image remains steady. The HD lens system guarantees the best colour reproduction for impressive observation. Whether you are watching birds or whales on the ocean or wildlife in woodland or rough terrain, the 8x magnification is the perfect solution. The new design also ensures that the CONQUEST HD 8x42 is extremely comfortable to use. The large focussing wheel is always close at hand, so that even at close range, for example, the smallest details can appear sharp and colour neutral.
CONQUEST HD 10x42
At 115 metres the CONQUEST HD 10x42 offers the largest field of view in its class. Maximum overview at close quarters and optimum magnification at long range. Whether you are watching birds in the bushes a few metres away or zebras in the distance on the African plains, the CONQUEST HD 10x42 ensures that you are well equipped for virtually any situation. Thanks to the increased magnification performance you can enjoy particularly detailed insights into the natural world. The new design, combined with optimum ergonomics and non-slip operation plus the large focussing wheel for high-precision focussing in any situation, ensure just the right level of observation comfort.
Victory Compact 10 x 25 T*

存貨: 請查詢 Stock availabllity: Please Ask
Victory Compact 10 x 25 T*
Compact pocket binoculars for natur observation, holidays and travelling.
High magnification for detail recognition at far distances.


Exceptionally optical qualities
* New 5-lens eyepieces.
* Total field of view with eyeglasses.
* Compact Schmidt-Pechan prisms with phase correction coating and dielectric mirror for highest detail recognition and transmission.
* T*-Multicoating for brightness, high contrast and neutral color rendition.
* Impressive close focus distance.


Mechanical qualities for reliability and durability
* Compact and ergonomic design for comfortable handling.
* Rubber armouring protects against knocks.
* Robustness and low weight due to the glass fibre reinforced Polyamid housing.
* Sliding, lockable eyecups for use with or without eyeglasses.
* Diopter adjustment for individual setting between left and right eyes.
* Waterproof up to 400 mbar (4 m water depth).
* Nitrogen filled, no internal fogging.
* Temperature range - 20 ° to +40 ° C.

Victory Diascope 85T*FL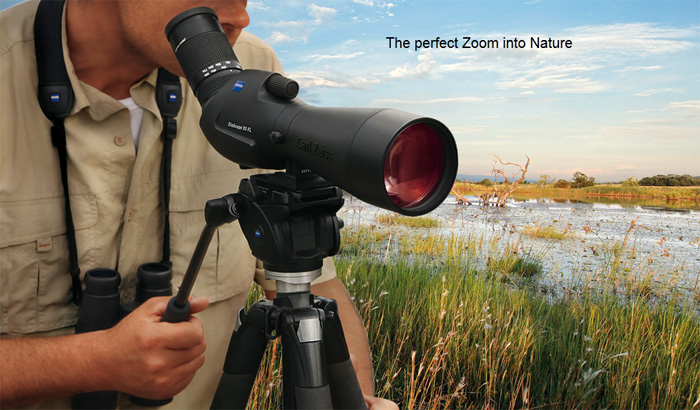 存貨: 請查詢 Stock availabllity: Please Ask
Victory DiaScope: The Ultimate in Nature Observation
With the new Victory DiaScope range Carl Zeiss offers unprecedented perfection in nature observation:
* The wide field of view opens up new perspectives and a magnification of up to 75 x gets you closer to fascinating details than ever before.
* The FL concept ensures unparalleled image brightness and brilliance.
* Intuitive and fast focusing via a single focusing wheel sets new standards in terms of operating comfort, in coarse and fine adjustment mode.


規 格

| | |
| --- | --- |
| Objective lens diameter | 85 mm |
| Lens Type | FL Type (5 lenses) |
| Close focus distance | approx. 5,0 m |
| LotuTec | yes |
| Nitrogen filling | yes |
| Waterproof | 400 mbar (=4 meter) |
| Filter thread | M86 x 1 |
| Photo adapter connecting thread | M 45 x 0.5 |
| Tripod mount | ¼ "and 3 / 8" |
| Length without eyepiece | approx. 345 mm |
| Height | approx. 105 mm |
| Width | approx. 97 mm |
| Weight without eyepiece | approx. 1,450 g |

價格

請查詢 Ask